Apple has taken ownership of the Mobeewave.com domain name, according to a WHOIS record discovered by MacRumors. The domain name was previously owned by payment startup Mobeewave, which Apple acquired last year.
Mobeewave has created a system that allows shoppers to use a credit card or smartphone on another phone to process a payment. The technology works with NFC, which is built into all modern iPhones.
Apple typically buys startups to turn their technology into features in its products, and the feature could in the future allow iPhones to be used as payment terminals with no additional hardware required. Apple has hired the entire Mobeewave team, which includes dozens of employees, and the company continues to work from Montreal, where it is based.
Prior to the acquisition, Mobeewave demonstrated the simplicity of its technology by showing users entering a transaction amount into an app and tapping an NFC-enabled card on the back of a smartphone.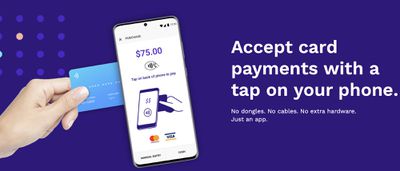 The complete domain transfer contact information is redacted for privacy, but the domain information of the record lists Apple's name servers. The domain is no longer active, although at some point in the future Apple may choose to redirect it to a related product page or to support pages for an upcoming product.
Related stories
EU plans to hit Apple with antitrust charges over Apple Pay
The European Commission plans to accuse Apple of anti-competitive behavior over Apple Pay because it is the only payment service that can use the iPhone's Near-Field Communication (NFC) chip, Reuters reports. EU antitrust investigator Margrethe Vestager has been investigating Apple Pay since June last year, but the European Commission has since focused on NFC…
Classic BlackBerry smartphones are officially dead
As of January 4, 2022, all mainstream BlackBerry smartphones running versions of BlackBerry OS will no longer work for calls, texts, data, and emergency features, rendering them essentially unusable. BlackBerry announced the news in September 2020 as part of a broader company shift to focus on security and enterprise solutions. "As another step in the BlackBerry journey, we will…
Apple will allow alternative payment systems in the App Store in South Korea
Apple will allow App Store developers to offer alternative payment systems in South Korea after the country passed a law prohibiting app store operators from requiring developers to use their own in-app purchase systems , reports The Korea Herald. Apple still plans to charge reduced fees on purchases made through alternative payment systems, according to plans the company submitted to Korea…
Today marks 15 years since Steve Jobs unveiled the original iPhone
Today is January 9, which means it's been 15 years since Apple CEO Steve Jobs took the stage at the Macworld Expo in San Francisco, California, and gave the world its first glimpse of the iPhone, a device that would change everything. The original iPhone was a tiny thing with a 3.5-inch LCD screen, an old home button, a thick chassis, huge bezels, a Samsung processor, and a…
25 years ago, Apple bought NeXT and brought back Steve Jobs
This week marks the 25th anniversary of Apple announcing that it has agreed to acquire NeXT for $400 million. The stunning move brought Steve Jobs back to Apple more than a decade after he left the company following an internal power struggle. "The acquisition of NeXT is the start of a new chapter in Apple's history and represents an important step in our transformation as a company," said the former…
Oppo says smartphone innovation has 'hit a wall' as it teases the first foldable device
Chinese consumer electronics maker Oppo says innovation in the smartphone industry has "hit a wall" and people are asking, "What's next for smartphones?" In response to this question, the manufacturer has teased its very first foldable smartphone named "Find N." In a press release, Oppo Chief Product Officer Pete Lau said that after "four years of intense R&D and six generations of…
Some SD cards don't work properly with 2021 14- and 16-inch MacBook Pros
The SD card reader slot on the new 14-inch and 16-inch MacBook Pro models isn't working as expected with some SD cards, according to multiple reports on the MacRumors forums. In a lengthy complaint thread, MacRumors readers have detailed issues they are having with certain SD cards, and there appears to be little consistency between the reports and the SD cards affected. Some SD cards crash and…
Paddle postpones launch of in-app purchase alternative after Apple gets reprieve
Payments platform Paddle will delay the launch of its built-in alternative payment system for iOS, the company announced today. The delay comes after Apple was granted a stay allowing it to maintain the App Store's current payment setup until an appeals court reviews the original decision in the Epic v. Apple case. In October, Paddle announced plans to launch an online payment system…
popular stories
Apple releases minor iOS 15.2.1 and iPadOS 15.2.1 updates
Apple today released minor 15.2.1 updates for iPhone and iPad users, and the software comes a month after Apple released iOS 15.2 and iPadOS 15.2 with a host of improvements. The iOS 15.2.1 and iPadOS 15.2.1 update can be downloaded for free, and the software is available on all eligible devices live in the Settings app. To access the new software, go to Settings > General >…
Apple's polishing cloth is finally back in stock
Alongside the 14-inch and 16-inch MacBook Pro models released in October, Apple introduced an Apple-branded microfiber polishing cloth for $19, which, like many overpriced Apple products, quickly turned into joke. The polishing cloth sold out within a day and shipping estimates were initially pushed back to November as Apple fans didn't want to be the only ones without a special Apple…
Hands-on with LG's 32-inch UltraFine OLED Pro display
In December, LG announced the launch of its new 32-inch UltraFine OLED Pro 2022 display, and in our latest YouTube video, we tested it to see how it compares to Apple's Pro Display XDR and whether it's worth worth recovering. depending on the price level. Subscribe to the MacRumors YouTube channel for more videos. Officially named "32BP95E", the screen features a resolution of …
Clones of the popular 'Wordle' game-flooding app store, including one charging $30 a year [Updated]
If you're a regular internet user, you've probably heard of the popular online daily guessing game Wordle, created by Josh Wardle. The game, which is completely free, was introduced last fall and has spread like wildfire. Wordle asks players to guess a five-letter word by identifying which letters are in the word and are located in the correct place. Players get six guesses per…
The iPhone 14 Pro is rumored to feature both pill-shaped and circular cutouts
Apple is expected to remove the notch on the iPhone 14 Pro models, but there have been conflicting rumors about the new design. Early rumors suggested that Apple would adopt a punch-hole design with Face ID somehow moved completely below the display, and later it was rumored that there would be a pill-shaped cutout at the place. Now display industry consultant Ross Young has claimed that…
Kuo: Apple headphones will use the same 96W power adapter as the 14-inch MacBook Pro
According to analyst Ming-Chi Kuo, Apple's AR/VR headset will use the same 96W USB-C power adapter included with the high-end 14-inch MacBook Pro. Rendering of Apple Headphones by Ian Zelbo In a research note published today with TF International Securities, obtained by MacRumors, Kuo said that Apple's headphones using a 96W power adapter proves it will have computing power Mac level, as he did…
iPhone 14 Pro is rumored to feature an upgraded 48-megapixel camera again
The iPhone 14 Pro models will feature a 48-megapixel camera, according to Taiwanese research firm TrendForce. Specifically, this refers to the rear-facing wide camera, which is currently 12-megapixel on the iPhone 13 Pro models. The addition of a 48-megapixel wide camera on the iPhone 14 Pro models has already been mentioned by several sources, including analyst Ming-Chi Kuo, who expects the upgrade. .
Apple Files $30 Million Bag Control Settlement on Legal Website
In November, Apple settled a longstanding lawsuit over employee bag checks, with the Cupertino company agreeing to pay $29.9 million to employees who were subjected to 24-hour bag searches, and now the Settlement details are available on Apple's website. California employees first sued Apple in 2013, and in 2015 the case escalated into a class action lawsuit. Employees demanded…